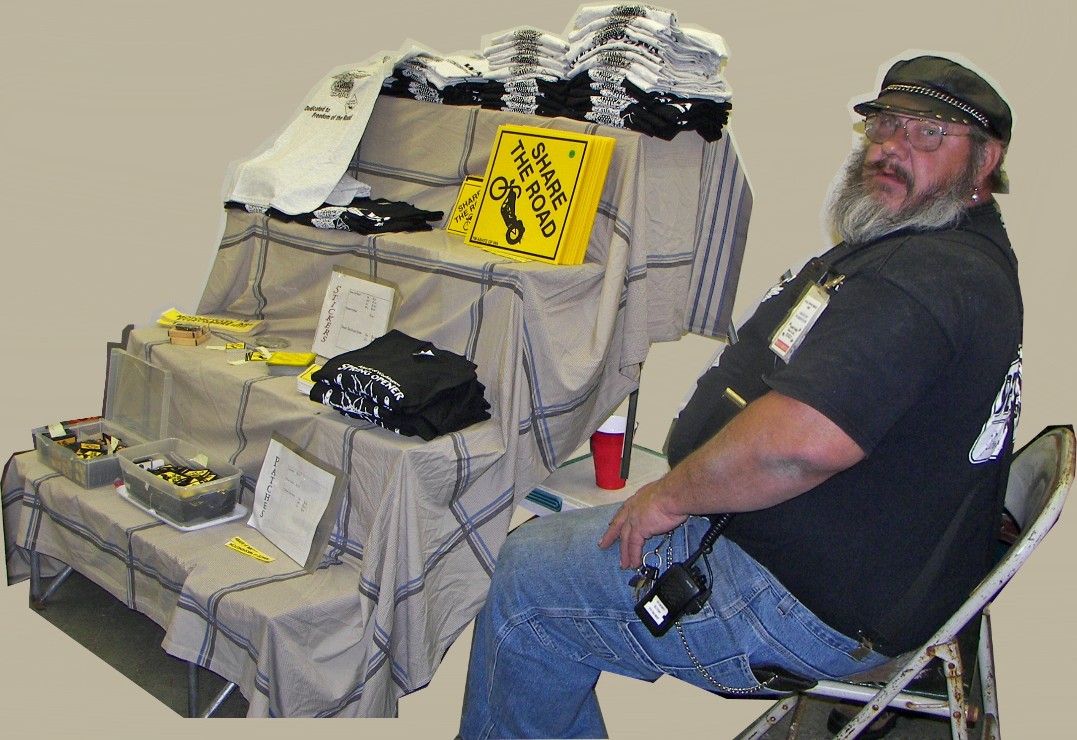 Leland Kelly "CRASH"
Always hard at work Selling ABATE Products!
I gave him the nick name "Mule"!
He was always packing around ABATE of WA Products.
Dragoni of (BFB) R.I.P.

ABATE of Washington E.P.C.C.

Leland Kelly passed away today 12-31-2012
at approx 2:30 am from Pneumonia and Complications
RIP "CRASH"
He was a past ABATE Of Washington Chapter Coordinator and
He worked with: ABATE State Products Roxy Kelly, for years.
He was a good man, who did many positive things for us in the bike community.
His presence will be missed, both by his family, and his bike family, as well.
RIP "Mule" I will See you on the other side Brother!
You will be missed by us all.

He always treated people with respect! Dragoni of (BFB) L.L.&R.
Leyland Kelly
the husband of our longtime State Products person Roxy Kelly
has passed away and she is not in the best financial position right now.

Ranger Rick from the Christian Crusaders
has offered to take care of taking donations and getting them to Roxy.
Please make a donation to help one of our own out by
sending a check or money order to:
Rick Sanders 68 State Park RD. Republic WA. 99166
Friday April 12th, 2013
LELAND KELLY "CRASH"
Memorial
Starts @ Eagle Leather in Lakewood, WA
Eagle Leather, 10:AM
Services will be at: Mt Tahoma Cemetery:
Tahoma National Cemetery
18600 Southeast 240th Street
Kent, WA 98042- 4868